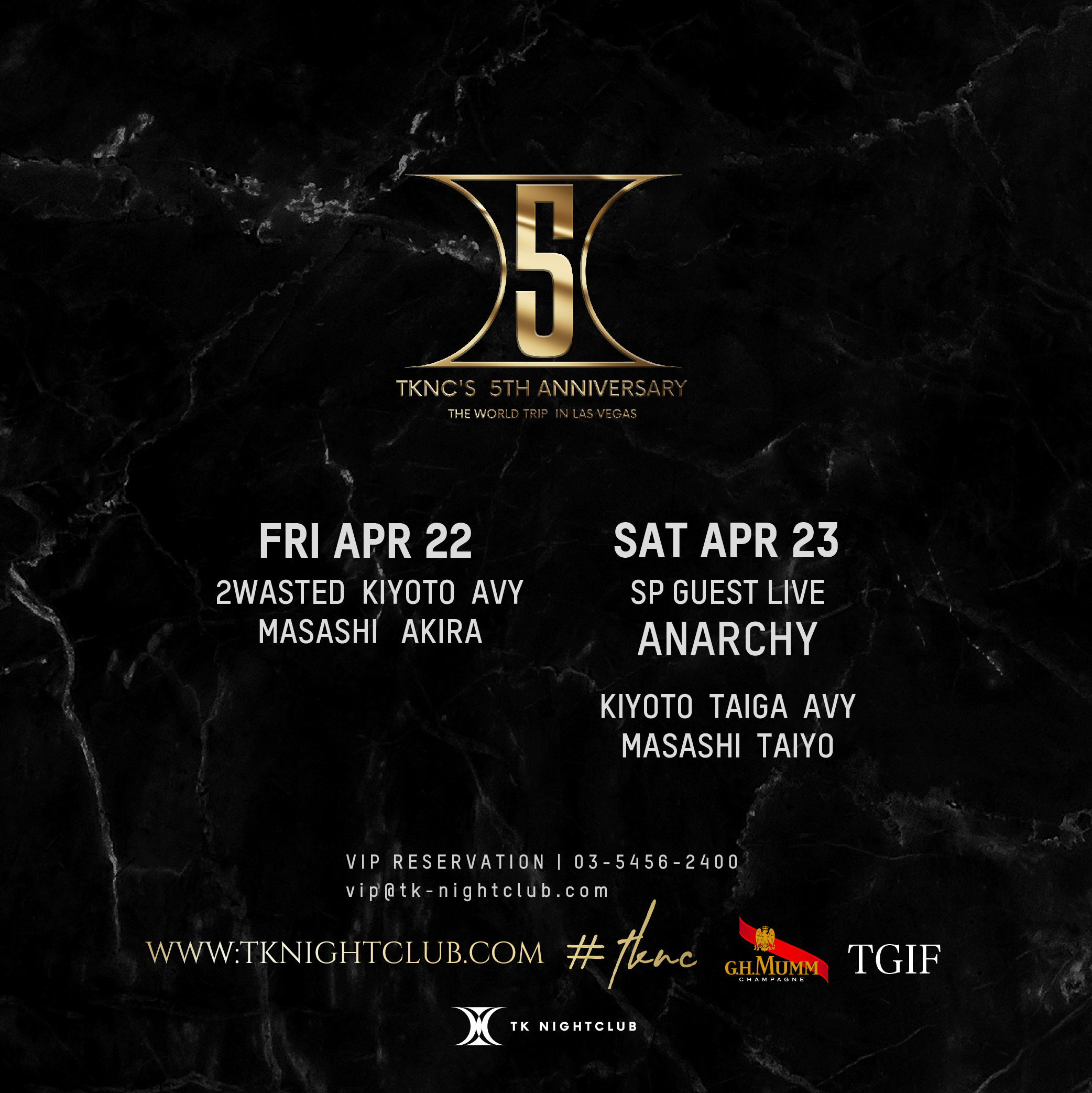 TKNC 5周年アニバーサリーパーティーの開催が決定!
TKNC 5周年アニバーサリーパーティーの開催が決定!
2022年4月22日(金) & 4月23日(土)の二日間に渡って開催される
本パーティーはThe World Trip in Las Vegasと称し、
海外に行きずらい現在、少しでも海外に行った気分を味わって頂けるよう
ナイトクラブ・カジノなどラスベガスのナイトシーンを再現し、
非日常空間を演出致します。
23日(土)には大人気ラッパー【ANARCHY】がTKNC初登場!
5周年の夜を圧巻のライブパフォーマンスで盛り上がろう。
TKNC's 5th Anniversary Party is Coming!
The two-day event will be held on Friday, April 22 & Saturday, April 23, 2022.
We would like to call this party "The World Trip in Las Vegas", and we hope you will join us.
In this days, it is difficult to go abroad, we hope that you will feel as if you have been abroad in TKNC.
The nightclubs, casinos, and other nightlife scenes of Las Vegas are recreated in TKNC.
The event will be held in an extraordinary space.
On Saturday ,the 23rd, one of the most popular rappers ANARCHY will make his first appearance at TKNC!
Let's get excited about the 5th anniversary night with a spectacular live performance.
TK NIGHTCLUB 5TH ANNIVERSARY
-The World Trip in Las Vegas-
2022.4.22 Friday & 4.23 Saturday
Open Hours 10PM
LINE UP
22 FRI
MARTIN/KIYOTO/AVY/MASASHI/AKIRA/LOGAN
23 SAT
SP GUEST LIVE
ANARCHY
KIYOTO/TAIGA/AVY/MASASHI/TAIYO etc..
Entrance Fee
22:00-24:00
M ¥2500/ 2D
W ¥1000/1D
24:00-Last
M ¥3500/2D
W ¥1500/1D