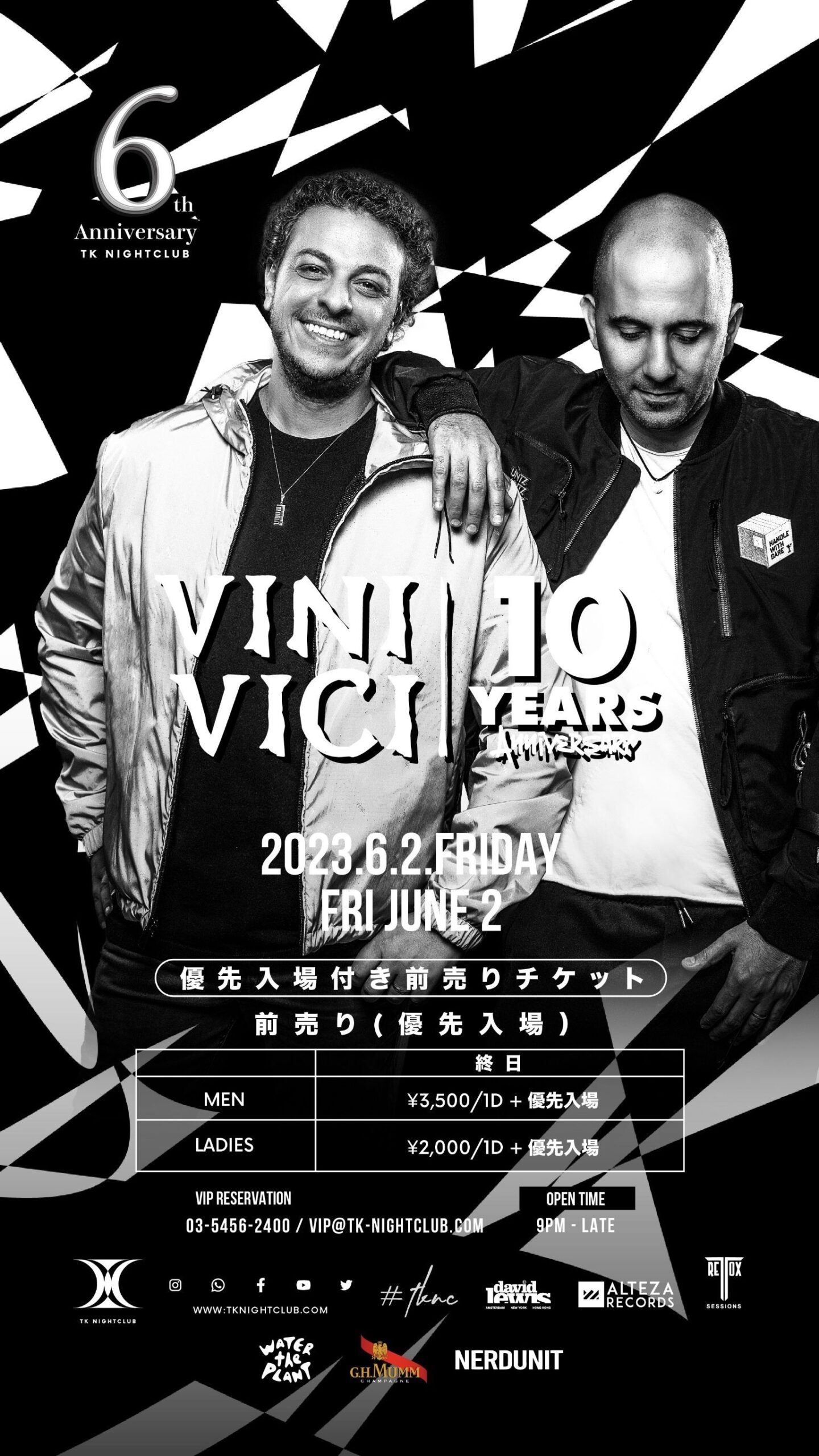 TK NIGHTCLUB 6th Anniversary
TK NIGHTCLUB 6th Anniversary
■日時/Date
6/2 (Fri)〜6/4( Sun)
■場所/Location
TK NIGHTCLUB
@tk_nightclub
東京都渋谷区宇田川町13-8,B1
13-8,Utagawacho,Shibuya
■エントランス料金/Entrance fee
期間中はエントランス料金に変動が御座います。
■Events
6/2 Friday
Special Guest DJ
VINI VICI
@vinivicimusic
待望の再来日決定!!
PSY TRANCE、現在のダンスミュージックシーンにおいて最もブレイクした"VINI VICI"が
TK NIGHTCLUB 6周年パーティー初日の金曜日に初登場!
UMF,Tomorrow Land,EDCなど世界的ビッグフェスティバルの常連でもあるVINI VICIが魅せる圧巻のパフォーマンスを見逃すな!
6/3 Saturday
Special Guest DJ
Mr.Black
@mr_black_music
Trance×Electroを融合させたハイブリッドな音楽センスで、
Musical Freedom、Revealed Recordings、Spinnin Recordsなど、
数々のビックレーベルからヒットチューンを生み出し、
Tomorrow Landなどの出演をも果たしている今注目のイスラエルDJ/プロデューサー
Mr.BlackがTKNCの6周年アニバーサリーパーティーに初登場!
6/4 Sunday
Special Guest Live
WILYWNKA
@wilywnka
大人気グループ変態紳士クラブのラッパーを務め、
個人名義においても、その卓越したラップスキルでオーディエンスから絶大な人気を誇るラッパー、
WILYWNKA(ウィリーウォンカ)がTKNC6周年パーティー最終日に登場!
■Sponsors
@water.the.plant
@ghmumm_jpn
@nerdunit
■VIP Reserve
03-5456-2400
■Contact
info@tk-nightclub.com
【English】
TK NIGHTCLUB 6th Anniversary
■ Date
6/2 (Fri) – 6/4 (Sun)
■ Location
TK NIGHTCLUB
@tk_nightclub
B1 13-8 Utagawacho, Shibuya-ku, Tokyo
■ Entrance Fee
The entrance fee may vary during the event period. Please refer to our website for details.
■ Events
6/2 Friday
Special Guest DJ
VINI VICI
@vinivicimusic
The highly anticipated return of VINI VICI, the breakout star of the current dance music scene in the genre of PSY TRANCE. Don't miss VINI VICI's breathtaking performance on the first day of TK NIGHTCLUB's 6th Anniversary Party, making his debut appearance on Friday. As a regular at world-famous festivals like UMF, Tomorrowland, and EDC, VINI VICI is sure to deliver an unforgettable performance.
6/3 Saturday
Special Guest DJ
Mr.Black
@mr_black_music
Mr.Black, an Israeli DJ/producer who has gained attention with his hybrid music sense that blends Trance and Electro. He has produced hit tunes from renowned labels such as Musical Freedom, Revealed Recordings, and Spinnin' Records, and has also performed at festivals like Tomorrowland. Catch Mr.Black's debut appearance at TKNC's 6th Anniversary Party.
6/4 Sunday
Special Guest Live
WILYWNKA
@wilywnka
WILYWNKA, the popular rapper known for his role in the popular group Hentai Shinshi Club, and his outstanding rap skills that have earned him immense popularity as a solo artist. WILYWNKA will be performing on the final day of TKNC's 6th Anniversary Party.
■ Sponsors
@water.the.plant
@ghmumm_jpn
@nerdunit
■ VIP Reserve
03-5456-2400
■ Contact
info@tk-nightclub.com